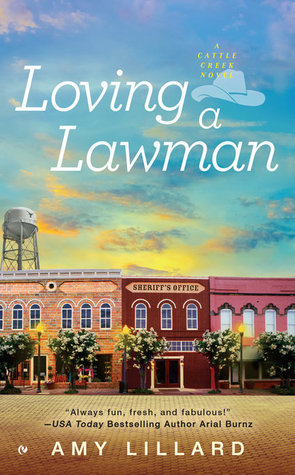 ABOUT THE BOOK
Sheriff Seth Langston is head over heels for local wild child Jessie McAllen and has been for years. The trouble is she has eyes only for Seth's rodeo star brother, Chase. Even though he considers Jessie his girl, Chase is an incorrigible ladies' man with a wandering eye and no chance of settling down soon.
Jessie is ready to move away from Cattle Creek to put her feelings for Chase behind her, but after she shares a white-hot kiss with Seth, things get a little complicated. Jessie realizes her heart should have been his all along. And in the face of sudden tragedy, they'll discover if their newfound passion will tear the Langston men apart or make the family stronger than ever.
MY THOUGHTS
I really liked the book! it was certainly different than what I'm used to reading and I most definitely skipped the bedroom scenes (sorry Amy). But overall, the characters were certainly well developed and I loved the cover of the book.
I like Jessie because in a way she reminds me of me if that makes any sense. I loved her stubborn streak but I also loved her sensitive side as well.
Seth was equally determined. I like a man who admits he's wrong and tries to make it right!
I came from a small town so I know what it's like. Everyone knows your business before you do! that's really the only thing I don't like about a small town.
There were some parts that I laughed at and wanted to cry because I can relate to Jessie so much.
I just wonder sometimes about ppl why it takes them so long to appreciate what's right in front of them!
Thanks Amy for a wonderful story. I will read this again. You truly made Seth and Jessie come alive. I can almost see them in a movie!!
I received a copy of this book from Amy Lillard in exchange for an honest review.
I'm a wife, mother, and bona fide Southern belle. Published author, expert corn bread maker, and Squirrel Princess.