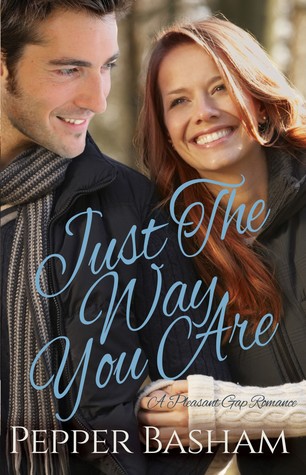 Single mom, Eisley Barrett, prefers to keep romance safely housed within a centuries-old mystery, but when she travels to England to unearth the secret, an actor with a sordid past offers her reluctant heart a very different type of discovery.

Wes Harrison has a past he's ashamed to confess. Suspicious and cynical, he's managed to avoid romantic entanglements since a tragedy upended his career and life, that is until American Eisley Barrett comes along. Her authenticity and kindness upend his bitter assumptions and send his heart into unscripted territory.

When his past threatens to ruin a second chance at love, can some Appalachian matchmaking and letters from the grave salvage their unexpected romance?
As always, Pepper writes another wonderful story.
As I sat here reading this awesome book, I snickered until I almost fell out of my chair.
Try eating cheesballs and coughing your fool head off while reading and laughing about Eisley and Wes. (My husband looks at me of course like I'm weird or something).
I'm going to have to say that I really liked Eisley. She's your warm hearted and has went through many hurts and eventually she does overcome them through her faith. I also like how she thinks out loud and then suddenly realizes that someone is listening lol!
Wes is your handsome British actor who is tall, dark, and handsome to boot (drool) actor who wants to turn his life around and live like he's supposed to.
I love the picture that Pepper used after she "stepped on a grandpa" at their very first meeting. I'm very glad he turned out ok.
Pepper has put a lot of humor and delight in this novel as well a mystery sort.
She has done a wonderful job in bringing these characters to life a d is able to put them in the right place at the right time.
I also appreciated that she put some "bad" people to shake up their lives. I hate that whenever someone can't get their way they use others to try and get their way.
Because to my idea we can get too comfortable with certain people and when they don't live up to our standards it is bye bye for some and Hello for others.
I believe in 2nd chances just like God does but sometimes that is even hard to live by.
I love the mystery because this is what kept my attention. How wonderful to have a rich family history like that!
Thanks Pepper for letting me read and review this fantastically funny story.
I recommend this book for people who love to read.
I received this book from the author and was not expected to leave a review. These are my own words.
Pepper D Basham has been telling tales ever since she was a little girl. When her grandmother called her a "writer" at the age of ten, Pepper took it as gospel and has enjoyed various types of writing styles ever since. A native of the Blue Ridge Mountains, mom of five, speech-language pathologist, and lover of chocolate, Pepper enjoys sprinkling her native Appalachian culture into her fiction wherever she can. She currently resides in the lovely mountains of Asheville, NC, where she works with kids who have special needs, searches for unique hats, and plots new ways to annoy her wonderful friends at her writing blog, The Writer's Alley. She is represented by Julie Gwinn, and her debut novel, The Thorn Bearer, arrives on May 7th 2015