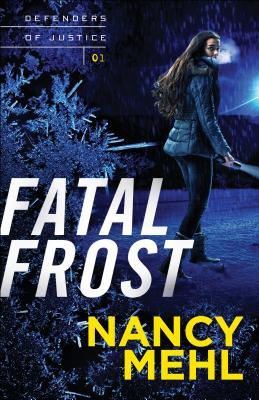 Mehl Ramps Up the Suspense in This Brand-New U.S. Marshals Series
Mercy Brennan followed in her father's footsteps in a law enforcement career, but she has no interest in any other connection to him. A U.S. Marshal in St. Louis, Missouri, she's assigned to a joint task force with the St. Louis PD that puts her back into contact with her father and in the sights of St. Louis's most powerful gang.
When the gang has reason to believe Mercy has possession of some highly sensitive and incriminating information, her boss assigns Mark St. Laurent--a Deputy U.S. Marshal and Mercy's ex-boyfriend--to get her out of town until they can guarantee her safety.
Initially unaware of the danger she's in and uncomfortable working with Mark, Mercy's frustration escalates when she discovers the extent her boss and Mark have been keeping her in the dark. It isn't until a freak ice storm hits, stranding them at a remote location and out of contact with the district office, that the full severity of their situation becomes clear. As the storm worsens, the forces of nature combine with a deadly enemy closing in to put their lives at imminent risk. Can they survive long enough for help to arrive--if help is even coming at all?
Quite a bit different from what I'm used to reading but I enjoyed it as well.
The author kept me in suspense as well. it's definitely a page turner.
Mercy is a stubborn Marshall who insists that her way is the right way. She's afraid to let people get close to her because if she does, the people she loves and like will go away. Mercy still has a lot to learn abut life in my opinion. Life goes on no matter what happens. I think that's what Mercy realizes this and through a wonderful man she slowly "melts inside.
Mark is a good US Marshall. I like Mark because he's alway putting others before him to make sure they are safe. I think in Wild like to have him by my side at all times if trouble is lurking around every corner!
Tally is also a cop. He's always wanted to be a cop ever since he was a kid. I liked Tally frome the beginning. I think that he would've been a great friend to me. Tally has this awesome personality that just draws you to him. He does have a few weekeness but then who doesn't. He so has a fear that through the help of God is working on.
Nancy has done a wonderful job in giving us some insight as to how the street gangs work. I know there are probably some here in Lexington, Kentucky but i haven't heard of anything like that.
Her writing style and research is totally awesome! I loved her books since I first read about a town called Kingdom Come. I was definitely hooked then.
I'm totally hooked on her books from here on out.
I received a complementary copy of this book from the author . These are my thoughts on this book.
Nancy Mehl lives in Wichita, Kansas with her husband, Norman, and her very active puggle, Watson. First published in 2001, she has now authored nine books, including an omnibus mystery collection, Cozy in Kansas, which contains three of her previously published Ivy Towers mysteries. Book three in the series, For Whom the Wedding Bell Tolls, won the American Christian Fiction Writers Mystery Book of the Year award. Nancys main writing interests lie in mystery although her new Harmony Series leans more toward the romantic suspense genre. Nancy runs a HUD program for the city of Wichita and is president of a volunteer organization, Wichita Homebound Outreach. She is a member of American Christian Fiction Writers and Kansas Authors Club. You can find out more about Nancy by visiting her Web site at:
www.nancymehl.com
"