ABOUT THE BOOK
That question has haunted Daniel Knight since he was thirteen, when he and ten-year-old Brigitte escaped the Gestapo agents who arrested both their parents. They survived a harrowing journey from Germany to England, only to be separated upon their arrival. Daniel vowed to find Brigitte after the war, a promise he has fought to fulfill for more than seventy years.
Now a wealthy old man, Daniel's final hope in finding Brigitte rests with Quenby Vaughn, an American journalist working in London. He believes Quenby's tenacity to find missing people and her personal investment in a related WWII espionage story will help her succeed where previous investigators have failed. Though Quenby is wrestling her own demons--and wary at the idea of teaming up with Daniel's lawyer, Lucas Hough--the lure of Brigitte's story is too much to resist. Together, Quenby and Lucas delve deep into the past, following a trail of deception, sacrifice, and healing that could change all of their futures.
LORI'S TRAVELS
I thought this book rather different. I enjoyed it very much and I must say blending past with present day certainly keeps it interesting!
It's a story searching for truth and wanting to know what happens to certain people.
I like it because its like a puzzle piece waiting to be put together again to make life whole.
It's amazing what people can do to one another in times of war or whether they be doing illegal activity. It is hard to believe that they do those kinds of things even during war time.
I love it too when stories come out ok.
It's uncanny how friends still want to find each other or when new friends are found.
This is a must read because I just adore history. History is our past and it is who makes us who we are today. I sometimes wonder what our forefathers would think of today? They'd probably turn over in their graves now.
I think Lucas has to be my favorite character with Quenby falling in 2nd. They are the two people I most admired. Quenby because she's had a lot to overcome and with Lucas guiding her and helping her. He becomes an automatic friend to Quenby.
Folks friends at very hard to come by. if you find one you'd better keep them!!
I just want to say again how much I enjoyed this story!
I received a complimentary copy of this book and was in no way required to review this book.
Thanks Melanie Dobson for another so wonderful story!!!!
ABOUT THE AUTHOR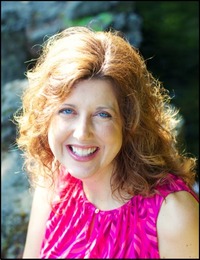 Writing novels is a fun excuse for Melanie to explore ghost towns and old houses, travel to unusual places, and spend hours reading dusty books and journals. She writes both contemporary and historical fiction with threads of romance and suspense.
Melanie is the award-winning author of sixteen historical romance, suspense, and contemporary novels including Catching the Wind, Beneath a Golden Veil, and The Silent Order. Three of her novels including Chateau of Secrets have won Carol Awards, and Love Finds You in Liberty, Indiana won Best Novel of Indiana.
Melanie and her husband, Jon, have two daughters. After moving numerous times with Jon's work, the Dobsons have finally settled near Portland, Oregon, and they love to travel and hike in both the mountains and the cliffs above the Pacific. When Melanie isn't writing or researching, she enjoys line dancing, biking, and making up stories with her kids.