ABOUT THE BOOK
Lyle and Heidi Troyer have taken in a brother and sister, who were orphaned when their parents were killed in a car accident. Hoping to help the children adapt and make friends, Heidi decides to hold a series of cooking classes for kids. But kids are always accompanied by an adult—and that is where the trouble arises.
Miranda Cooper is living the life of a single mom to her two kids while separated from her husband, but Trent is trying to worm his way back into her heart.
Denise McGuire's life as a wife, mom, and real estate broker is full and spilling over.
Darren Keller, single dad and firefighter, and Ellen Blackburn, single mom and nurse, find a few things in common.
Will hearts be healed over plates of Amish food?
MY REVIEW
Can a plateful of Amish food heal broken hearts?
A wonderful story of a family coming together through their faith and I loved watching them making new friends through once again a cooking class.
My heart broke for Kassidy because I can certainly relate to that. I believe that when raising children both parents should be on the same page. My husband was never on the same page with me while raising our son. I'm so very happy and pleased that even tho we weren't on the same page he still turned out to be an awesome person.
It wasn't until years later that I found out that the husband was jealous of our child.
I fell in love with Randy and his mischievousness!! I guess that's what. comes from raising a son myself.
I enjoyed watching Heidi. She had to have the most patience of anyone I know. Kind of reminds me of Sarah, Hannah who were barren but waited patiently until God decided to bless them. I know it couldn't have been easy because me being the most impatient person there is.
There's a saying and I believe in wholeheartedly " Good things comes to those who wait" and most times it's very true.
I devoured this book because I enjoyed it so much!! I sure hate to see this series come to an end.
I just love Wanda's books!! She's one of my very favorite authors
ABOUT THE AUTHOR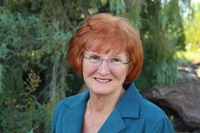 New York Times bestselling and award-winning author, Wanda E. Brunstetter is one of the founders of the Amish fiction genre. She has written close to 90 books translated in four languages. With over 10 million copies sold, Wanda's stories consistently earn spots on the nations most prestigious bestseller lists and have received numerous awards.
Wanda's ancestors were part of the Anabaptist faith, and her novels are based on personal research intended to accurately portray the Amish way of life. Her books are well-read and trusted by many Amish, who credit her for giving readers a deeper understanding of the people and their customs.
When Wanda visits her Amish friends, she finds herself drawn to their peaceful lifestyle, sincerity, and close family ties. Wanda enjoys photography, ventriloquism, gardening, bird-watching, beachcombing, and spending time with her family. She and her husband, Richard, have been blessed with two grown children, six grandchildren, and two great-grandchildren.