ABOUT THE BOOK
Jason Jennings made a tough call two years ago when he left behind his status as a
hard-partying star quarterback in order to serve the Lord. Recently returned from a mission now, he's ready to get back on the football field at UCAL. But despite turning his life around, his bad boy reputation is proving hard to shake.
Allie Hollis is everything a cheerleader should be--beautiful, outgoing, and smart--but her brilliant smile hides a devastating secret. So when Jason begins to show interest in her, there's no question: her answer is no.
Yet, in the face of Allie's chilly response, Jason's gentle persistence pays off, and a tentative friendship grows. Their chemistry is obvious, but Allie's determination to steer clear of a relationship with Jason goes deeper than he realizes. When the truth of her painful history comes to light, the couple must decide whether they will remain on the sidelines or jump back in the game of love.
MY REVIEW
I loved loved this book.
She's a new to me author. But what I liked about her writing was adding the quotes and definitions that she has put in italics at the beginning of each chapter.
What I really don't care for is the present tense genre.
First person is my favorite if that makes any sense.
This is a centered Latter Day Saints novel. But, as long as the story is good it doesn't matter to me. I love a good story especially one that can make you tear up.
The author has done a fabulous job in telling these two young people's story just trying to get through life.
She has shown us that even though we think we can bury our secrets deep down, there's always something that will trigger it.
Secrets always come out of the wash so to speak. And anyways you can't keep secrets from the One who knows. He knows everything.
We can't erase the past. It makes us who we are. I like to think that it will help make us a better person in the future with God's help of course.
Even though we have commited ourselves to Christ we are human.
We will mess up a time or two. Or whichever the case may be. Jesus understands this. I'm so glad He's my friend and Savior!! There's none other than Jesus!!
Will these two find love and happiness? Can they overcome their past?
My thanks to Covenant Communications for a complimentary copy of this book. No compensations were received and all opinions are my own!!
ABOUT THE AUTHOR
Tiffany Odekirk believes cooking should take less than thirty minutes, frosting is better than ice cream, and all books should end with happily ever after. After graduating from Brigham Young University with a degree in Marriage, Family, and Human Development, Tiffany completed an internsh
ip with LDS Family Services in adoption and then went on to work with homeless women and children in the non-profit sector. Married to a Broadway star, Tiffany's days are filled with music, and her nights are spent writing the types of characters she hopes her children will one day marry.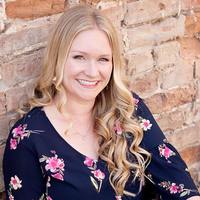 http://www.rafflecopter.com/rafl/display/0ae98b8a202/
?