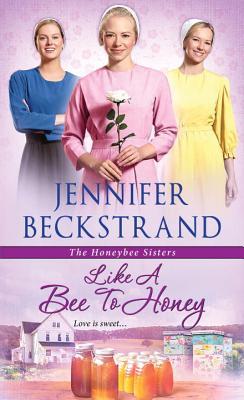 ABOUT THE BOOK
Affectionately dubbed The Honeybee Sisters in their Wisconsin Amish community, the three Christner girls are devoted beekeepers who are coming-of-age—and discovering the sweet surprise of love…

Shy, skittish Rose Christner is more comfortable tending to the beehives on the family farm and keeping her aunt's unruly cats in line than attending social gatherings with the rest of the
die youngie
. A childhood trauma and secret shame keep her heart under lock and key, and Rose just can't accept the sweet attention she's receiving from a handsome neighbor. But the more she shies away from Josiah Yoder, the more their families sneakily plot to bring them together. And when a vandal who's been plaguing the Honeybee Farm starts targeting Rose, Josiah's steadfast protection—and patience—just may lead her into his waiting arms…
This is a fast paced, very entertaining, and it even has a little bit of mystery in it! I love the who done it cases. In this case, Jennifer Beckstrand keeps you guessing for sure and certain!! It is also very funny in places. I howled in some places of the book even though I'm in a lot of pain right now from today's fiasco at work lol! Jennifer Beckstrand thank you for making me laugh.
Aunt Bitsy is really cracking me up! Especially, the way she treats Josiah. I love love her personality! Even though she carries a shotgun to ward off stray cats lol she really does have a heart of gold! I'd love to have a Aunt like her. I guess in a way I do. I also like how she gives Josiah a choice on what to do with Rose's feelings. I myself thinks he's the perfect choice for Rose.
Josiah is madly in love with Rose Christner. I love a sweet and caring man like him. My hero (swoon ). He's always there in the right place and time and jumps to Rose's defense especially against mean Paul Glick!
Josiah reminds me of my husband. He thinks he can fix anything but when it comes right down to it he can't fix a lick!! Lol!!!
I give him an E for effort.
Then we have sweet,shy Rose Christner. A very lovable and kind pain but who was on the wrong place at the wrong time. It is why she's afraid all of the time and always looking over her shoulder. Her sisters and Josiah is always protecting her bit she doesn't want to be a project or a burden on them. This is Rose's story to tell like Aunt Bitsy said.
May the Lord guide Rose in her telling the story and if she tells will the mystery be solved? Only the Lord knows. He is our protector at all times and sends ppl to help Him in his stead.
I still will not like Paul Glick!! He's mean and a cheater and liar! He is the one who done the Honeybee sisters wrong! I do ot like ppl who twist what really happened to.make themselves look good! It's not right! But, I believe Paul will get his justice in the end. I say this because God will take care of the mean ppl in the end!!
ppl you ve just got to read this last book in the series!!! As the Honeybee sisters say,"it's wonderful gut!!!!
ABOUT THE AUTHOR
I grew up with a steady diet of William Shakespeare and Jane Austen. After all that literary immersion, I naturally decided to get a degree in mathematics, which came in handy when one of my
six children needed help with homework. After my fourth daughter was born, I started writing. By juggling diaper changes, soccer games, music lessons, laundry, and two more children, I finished my first manuscript—a Western—in just under fourteen years.
I have always been fascinated by the Amish way of life and now write Inspirational Amish Romance. I am drawn to the strong faith of the Plain people and admire the importance they put on enduring family ties. I have visited and studied Amish communities in Pennsylvania and Wisconsin where I met with a bishop and a minister as well as several Amish mamms, dats, and children. It has always impressed me at what salt-of-the-earth people they are. My interactions with these kind people have been some of the most rewarding experiences of my life. I have a dear Amish friend with whom I correspond in Lancaster County, Pennsylvania. She helps me keep my facts straight and gives me inspiration for my stories.
My goal is to write uplifting, inspiring stories with happy endings and hopeful messages. If my books make readers want to give themselves a big hug or jump up and down for joy, I've done my job. I am a member of Romance Writers of America and American Christian Fiction Writers and am represented by Mary Sue Seymour of The Seymour Agency.
There are three Amish romances in the Forever After in Apple Lake Series (Summerside/Guideposts). Kate's Song, Rebecca's Rose, and Miriam's Quilt are all now available.
I have six Amish Romances in the works with Kensington Books. The first and second books, Huckleberry Hill and Huckleberry Summer, are now available in stores and online. The Matchmakers of Huckleberry Hill is set in northern Wisconsin Amish country.
The series, The Matchmakers of Huckleberry Hill, is about an elderly Amish couple who try to find suitable mates for their grandchildren. What could be more fun than throwing two young people together to see if sparks ignite? No one would ever suspect two octogenarian Amish folks of mischief.
Romantic Times gave Huckleberry Hill 4 1/2 stars and chose Huckleberry Summer as a TOP PICK.
I have four daughters, two sons, three sons-in-law, and two adorable grandsons. I live in the foothills of the Wasatch Front with my husband and one son still left at home.