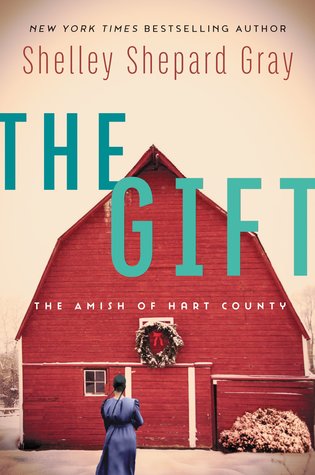 ABOUT THE BOOK
New York Times
Bestselling Author Shelley Shepard Gray gifts us with a special Christmas story about love and blessings in this next book in her Amish of Hart County series.
The Schwartz family is happy to be spending Christmas on their new farm in Hart County. But when Susanna Schwartz hears gunshots that causes her buggy to overturn, and then her little sister falls through a wooden bridge into the icy creek, it becomes clear from these dangerous "accidents" that someone wants them gone.
Neil Vance has been heartbroken ever since his parents lost their family farm. He knows it's not the Schwartz family's fault, but he can't help but be resentful. Until he meets Susanna. She is kind-hearted and bold, and Neil can't stop thinking about her pretty green eyes.
Neil thinks the accidents are just that, but Susanna's father is convinced the Vance family is responsible. Susanna refuses to believe Neil would do anything to harm her. She's fallen in love with him and knows he is a good man. But her family is ready to pack up and move, and time is running out to uncover the truth before someone gets hurt…or worse.
LORI'S REVIEW
I really enjoyed this third book by Shelley. I loved the mystery, romance all wrapped into one!
The cover of the book is really cool!
I think that some ppl do have a hard time with changes. I'm one of those ppl.
I just can't say enough about this book except that it is a midnight oil burner book!
I also enjoyed making new friends with the ppl in the story.
I thought Shelley did such a good job in bringing the characters to life. I loved the ability she has to make you feel like you're in the story with the ppl.
I don't live but an hour away from Horse Cave, Ky. I love a good book set in Kentucky.
Susanna is the best character. I love her bc she has a brilliant mind and knows how to get things done. I love her determination to prove a point that the things that were happening were not her or her family's imagination!
I'm like Neil's mom. I love Christmas! It's my favorite time of year! I also count my many blessings even though it's hard sometimes!
I strongly recommend this book!
I received this book for free! I was not required to leave a review
ABOUT THE AUTHOR
I live in southern Ohio with my husband, two teenagers, and two dogs. My days are filled with busy activities like most any other mom and housewife. But I also
love to write books.
Each morning, after my kids go off to school, I sit at my desk, look out my window, and dream of other places. The hours fly by as I make up people and places and drink way too much coffee.
Writing for Avon Inspire has truly been a dream come true. Being able to spend my days in my make-believe world of the Brenneman Bed and Breakfast is a true blessing. I have enjoyed getting to know more about the Amish culture and tapping into my faith as I show each character's progression toward a personal relationship with our Lord.
Before becoming a full time writer, I taught elementary school in Texas, Arizona, and Colorado. A job transfer to Ohio led my husband to encourage me to finally give writing a try. After all, I had notebooks full of made up stories.
I'll never forget that first book I typed in our unfinished basement. It was exciting to make up a story, but also very scary. I was also so embarrassed, sure someone would come out of the woodwork and point out that I wasn't a 'real' writer. But I persevered, and sold my third manuscript.
Things have changed a bit. Now I have a real office of my own. (think old guest bedroom!) My walls are painted pink, and more than a couple of book covers decorate my walls. But my days are still the same. I wake up, dream about other people, and do my best to type out stories.