ABOUT THE BOOK
Analyn Sanchez can handle the long hours and arrogant clients that come with her job as a crisis management associate at Denver's largest publicity firm. The high-powered job, expensive condo, and designer wardrobe are all part of her plan to prove to her family that her life choices haven't been in vain. But when she's asked to cover up a client's misdeeds with serious moral and legal ramifications, she can no longer sacrifice her conscience for her career . . . and the cost is no less than her job.
Ever since a devastating climbing accident in South America eight months ago, and a bad decision that dried up his sponsorships, professional rock climber Bryan Shaw has found himself at similar loose ends. When the opportunity to buy a coffee farm in Colombia arises, he jumps on it--only to discover his wandering ways have left him utterly unprepared to run a business.
When Bryan returns home and offers Ana a role in his company as a solution to both their problems, she's desperate enough to consider working with the far-too-flippant and far-too-handsome climber, even though he's the polar opposite of her type A nature. As they delve deeper into the business, however, she begins to suspect there's much more to Bryan than she's given him credit for . . . and that sometimes the best plans are the ones you never see coming
MY REVIEW

I loved this book so very much!
Ana finally gets to tell her story and I wasn't disappointed.
Ana was kind of hard to connect with but as I've said before, you don't have to connect with the characters to enjoy a fabulous read! But, I will say this about her. She's one amazing woman that's for sure and certain! I'd love to have her talent! I loved that Carla showed that she was flawed just like the rest of us and has self doubts too. We all do!
Sometimes it's hard to do the right thing but I felt that Mason had that one coming to him It's sad about politician's families how their children and wives get caught up in it. I didn't really even like Mason because he was too dirty and underhanded to care about anyone else but himself!
I'm glad to see Rachel and Melody were back. These are the most amazing women! I admire them very much!
Carla has a way of making her characters coming to life for us and I've made friends with them and I felt myself drooling over their food. (Too bad there isn't any recepies) I'd like to try cooking some of Rachel's delicatessens myself except for the lamb. Ick!
Sometimes our lives don't pan out the way we want them to. Take Bryan's for example? I liked his get go. He didn't let life get him down. He just got right back up and tried something new. I rooted for him the whole entire time.
I don't drink coffee but I did learn a lot from this awesome story. Diet Dew is my to go drink.
I never knew so much went into making coffee! My goodness!
There is a Bible reference in this story but I will let ya'll figure it out. I don't want to spoil it for ya.
I highly recommend this book. Ya'll just have read this awesome book! You'll be glad you did!
My thanks to Netgalley and Tyndale publishers for a complimentary copy. I was NOT required to write a positive review. NO compensations were received and all opinions are my own.
ABOUT THE AUTHOR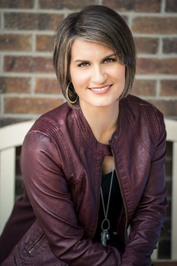 Carla Laureano is the RITA® Award-winning author of contemporary inspirational romance and Celtic fantasy (as
C.E. Laureano
). A graduate of Pepperdine University, she worked as a sales and marketing executive for nearly a decade before leaving corporate life behind to write fiction full-time. Sh
e currently lives in Denver with her husband and two sons, where she writes during the day and cooks things at night.