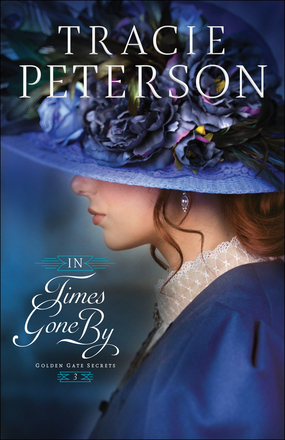 ABOUT THE BOOK
After getting left at the altar, Kenzie Gifford flees to San Francisco to start her life over, determined never to love again. She's made new friends and has a good job in the office of her cousin's chocolate factory. The only thorn in her side is Dr. Micah Fisher, who insists on pursuing her despite her constant rejection.
Then the Great 1906 Earthquake strikes the city, and everything changes. The devastation all around her makes Kenzie reevaluate her outlook on life--and possibly even her feelings for Micah. But then her world is rocked again when her ex-fiancE appears, full of apologies and determined to win her back. But Arthur already broke her heart once. Does she dare trust him again? The sudden arrival of a hidden danger will expose the motivations of all involved, but it could cost Kenzie her life--as well as her heart.
MY REVIEW
I loved the setting for this book. I admire Tracie Peterson for her ability to write these wonderful stories.
I don't think that much is written about the earthquake of San Francisco in 1906.
Tracie writes in a way that I could imagine myself being in with the people and what they went through during that terrible time. I loved the way the people of the community came together in their time of need and helped each other.
I think it's awful that it takes something like this to make people come together. We should always help because we never know who might need it. 9/11 is a perfect example for today's catastrophe. We as a nation came together and helped those in need.
I'm wondering if God plans these disasters to make us wake up and realize what is going on around us? I'd like to think so. But then after everything settles down we go back to our old way of life never giving our Lord a second thought. That's terrible.
I liked how the girls and their friends helped wherever people needed it.
I understand how Kenzie felt. When I broke up with my ex he took everything with him including my heart. It took me a long long time to understand why he did that and it also took me long time to trust another man.
All men are not alike my head says but, my heart is telling me opposite.
I dearly love the man I have now. He does everything for me and gets anything the family needs.
Doctors like Micah are hard to find these days. Sometimes I think that yesterday's drs can really teach these doctors today some bedside manners.
I give this book 5 stars with my whole heart.
I received a copy from Netgalley and no compensation were received..
ABOUT THE AUTHOR
Tracie Peterson is a bestselling author who writes in both historical and contemporary genres. Her novels reveal her love for research as well as her strong desire to develop emotionally meaningful characters and stories for her readers. Tracie and her family live in Montana.